Despite a ban, United Arab Emirates is hiring old Russian Ilyushin Il-76 cargo aircraft  operated by dodgy Kazakh airlines to illegally transport arms and troops from UAE airports to Libya.
At a conference on Libya in Berlin on Sunday, January 19, all participants in the conflict promised to abide by the UN embargo on arms supplies . The ban was introduced back in 2011. However as shown by websites tracking flights, many flights carrying arms were operated into Libya.
In Libya the United Nations backed Government of National Accord (GNA) is fighting against troops led by Field Marshal  Khalifa Haftar. Haftar is the Commander of the Libyan National Army (LNA) which is supported by Russia, France, Jordan, Saudi Arabia, the UAE and Egypt.
GNA is supported by Turkey, Qatar and Italy. Turkey recently sent Syrian mercenary fighters to Libya.
Haftar received around 3,000 tons of military equipment from the UAE in the last two weeks of January 2020 alone according French intelligence source.
The cargo aircraft depart from Sweihan Airforce base (Abu Dhabi Northeast ) in the UAE. Some flights depart from Sharjah or Dubai. The destination airports are not clear. Some of the flights are reported to land at Sidi Barrani in northwest Egypt. After offloading the equipment travels over land to Libya. Also cargo is shuttled between Egypt and Libya using the same IL-76 aircraft.
In 2019 Al Jazeera reported about similar transports of IL-76 aircraft carrying arms for Haftar led forces. Those flights departed from Jordan and Israel airports. An IL-76 registered UP-I7655 was operted by Sigma Aviation.The commercial agent of Sigma Aviation is a UAE company called Reem Travel and owns 49% of Sigma. The aircraft appeared on April 12 and 19 at the al-Jafra base of Hafar's forces and appeared at Bnina base southeast of Benghazi on May 2.
In July 2019 two Ukraine registered  IL-76TD aircraft UR-CMC and UR-CRP were destroyed while parked at Jufra airfield in Libya. The operator of the aircraft was Europe Air LLC. The aircraft departed from UAE and also very likely carried arms.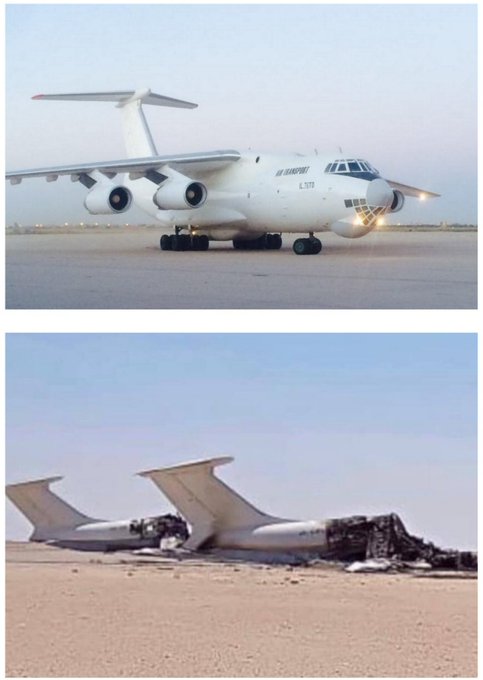 Earlier in July Haftar threatened to down Ukraine cargo aircraft as these were used to transport arms supplied by Turkey to Tripoli in support of Government of National Accord (GNA). Turkish armed drones arrived at Mitiga, Tripoli in July 2019 on-board of the Il-76TD of Ukrainian SkyAviaTrans registered UR-COZ. After landing the aircraft was destroyed by drones operated likely by UAE.
SkyAviaTrans was owned by Olena Malakhova. She was killed when the Ukraine International Boeing 737 was shot down by two Iranian missiles near Tehran. SkyAviaTrans IL-76 aircraft operated in 2018 for Islamic Revolutionary Guard Corps. IRGC is a branch of the Iranian Armed Forces.  SkyAviaTrans IL-76 aicraft were frequently spotted at Qadr Air Base in Iran. Rumours are these aircraft carried arms for the Iranian armed forces
So some Ukraine airlines were operating for both parties involved in the war in Libya.
The following aircraft were  operating frequenty in January 2020 between UAE and Libya/Egypt.
Jenis Air ( Kazakhstan) IL-76 UP-I7652
AZee Air ( Kazakhstan) IL-76 UP-I7650, UP-I7651 using callsign AZL
Zetavia (Ukraine)  IL-76 UR-CIG using callsign ZAV
Antonov 124 UR-ZYD which flies for Maximus Air Cargo (UAE) and is operated by Ukraine Air Alliance (UAA). Maximus Air Crago is owned by Abu Dhabi Crown Prince Mohammed bin Zayed.
An Ukraine website reports Ukraine registered aircraft are not allowed to operate to Libya. In July 2019, by the decision of the Aviation Security Council of the State Aviation Service of Ukraine in connection with the aggravation of the military-political situation in the Republic of Libya, passenger and cargo transportation in this country was classified as "Forbidden". This happened after the  destruction of several Ukrainian aircraft  in Libya.
A Boeing 747 freighter registered UP-B4701 does not seem to be involved in this series of transport. Flightradar 24 showed this aircraft for a while operating to Libta but mistook the hex code. In reality AZee Air IL76 UP-I7650 operated these flights.
Other suspicious IL76 cargo aircraft operating in the region are UR-BXQ of Ukraine Maximus Air Cargo. This airline is owned by Abu Dhabi Crown Prince Mohammed bin Zayed. The aircraft was spotted in Jeddah, Aqaba and seems to have its base in Al Ain, UAE.
UR-CMB IL-76 of Ukraine Alfa Air did a few flights from Amman towards Libya in early February.
To EuroAsia Daily the Kazak airline AZee Air denied it operated to Libya.
Not only operate these aircraft between UAE and Libya/Egypt. The IL76s were also spotted flying between Benghazi airport in Libya and Al-Marj in Libya . The United Arab Emirates (UAE) established a military base nearby the city Al-Marj on the eastern side of Libya. Al-Khadim Airport is  about 100 km from Benghazi. The base is protected by  Hawk anti-aircraft missile system deployed by UAE. 
Dutch Twitter user Gerjon who monitors flights compiled an overview of these flights. In total 49 flights between January 12 and January 31 were operated by four cargo aircraft.
The photo of the Azee Air IL76 UP-I7650 was made by an unknown photographer and published at Russianplanes.net