An airline using a Kazakhstan air operator certificate threatens a Dutch person who tracks aircraft movements with legal actions because he reveals their banned flights. 
The Twitter account named @Gerjon_  posts  movements of interesting aircraft. Many times the operators of these flights do not want publicity of their flights. Gerjon posts a lot of information on cargo flights operated by the Kazakh airline Azee Air Airlines. Azee Air operates four IL-76 cargo aircraft. Many of their flights start in the United Arab Emirates and land in Libya. While officially the nature of the cargo is unknown it has been reported by many media that  all sort of weapons and ammunition are carried. Photos on internet show white painted IL-76 aircraft surrounded by army trucks.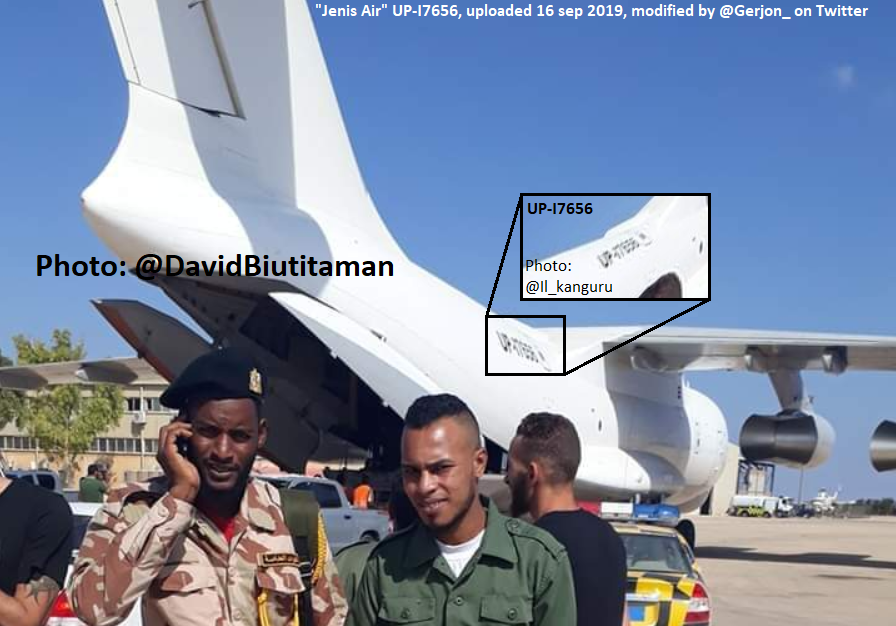 Some of these dodgy airlines requested aircraft tracking websites like Flightradar 24 to hide the identity of the aircraft.
In Libya the United Nations backed Government of National Accord (GNA) is fighting against troops led by Field Marshal  Khalifa Haftar. Haftar is the Commander of the Libyan National Army (LNA) which is supported by Russia, France, Jordan, Saudi Arabia, the UAE and Egypt.  In this blog details about the airlift are described.
Gerjon recently sent this Tweet "Independent sources have shown to me that Kazakhstan Aviation Admin. SUSPENDED AOC (license) of AZee Air (UAE-Libya support) on 21 Apr, allegedly over U.N. pressure."
Despite their license suspended, which means the airline is not allowed to fly anymore, these now banned flights seem to continue .
At May 7, 2020 Azee Air sent a Tweet threatening Gerjon_ with legal proceedings if he continues to post information on the flights operated by Azee Air.
Gerjon responded "Needless to say, I don't see reason to refrain from tweeting about any airline-be it KLM, Air Koryo or Azee Air."
An example of the many Tweets by Gerjon about the  UAE to Libya airlift is shown below.